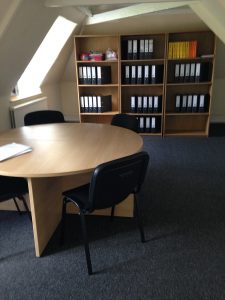 We have an extensive range of services for our UK and European customers. We can form your company through to processing the end of year Accounts.
Company Formation. Company formation is a relatively simple process when you work with Companies House on a regular basis. We can register your company same day with Companies House and HMRC.
Business Bank Account. We can assist you to open up a business bank account in Sterling, Euros and dollars. We have great relations with HSBC and RBS Banks and will organize and attend the set up meeting with you.
VAT Registration. Advice on scheme to select for your business: standard or flat rate, quarterly VAT returns and EC sales lists.
Payroll and RTI. We can manage your monthly payroll, payslips, RTI (Real Time Information) submissions and end of year returns.
Accounts and Book-Keeping. We can keep your books up to date using Quickbooks Software and preparation of your accounts to agreed timescales, review of the annual figures and filing with Companies House and HMRC.
Registered Office and Mail Address. Use our address as your business or private address. To all intents and purposes, appear to be occupying one of the Centre's offices. A prestigious address could be beneficial to your business. We can open mail and pdf same day for no additional cost.
Telephone Answering. We will take your business calls, either on our main telephone number or a number allocated specifically for your company, handling callers in an efficient and friendly way, thus ensuring that you retain their business.

Restructuring and Recovery

The earlier you seek the right financial advice, the better the chances of constructing a plan to ensure the survival of the business. Working with our partners. We advise all types of clients from individuals to companies, in a range of sectors. We work with you to achieve business restructuring and recovery.